Fusion Dance Education Series:
Intro to Salimpour Format with Sally Myrfield!
____________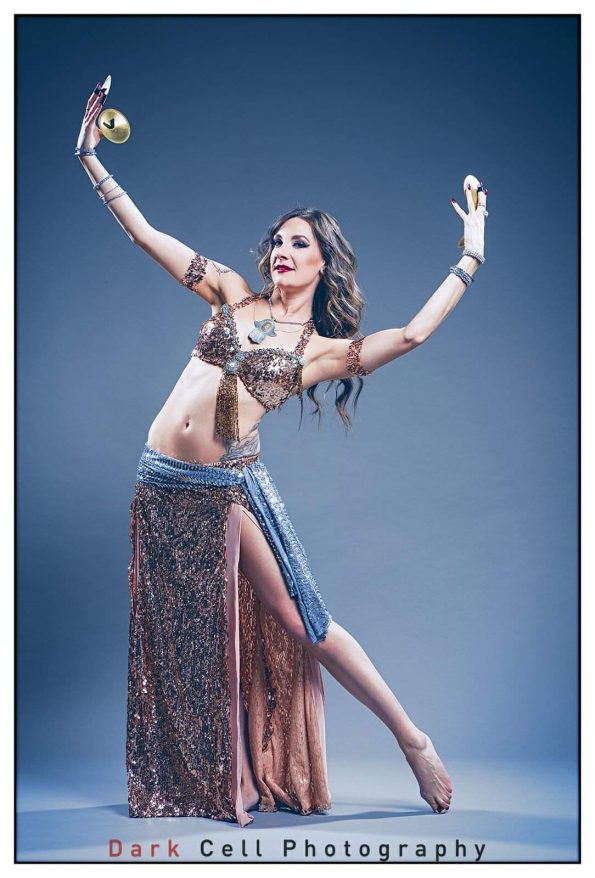 TO REGISTER EMAIL luciterradance@gmail.com
Luciterra is pleased to be bringing Sally Myrfield for an afternoon of Salimpour Format drills and technique as part of our Fusion Dance Education Series! The Suhaila Salimpour School of Belly Dance can be traced back to 1949. Every dancer knowingly or not has been exposed to the indelible mark Jamila Salimpour and daughter Suhaila Salimpour have made in the world of Middle Eastern dance.
Sally is so pleased to offer this class to those looking for an introduction to this masterful format, or to those simply wanting to refine their technique. No matter what your style or level, Sally will work with you from the ground up; get ready for a high energy class that is both equally challenging AND fun! Bring water, and finger cymbals if you have them.
https://www.salimpourschool.com
Jamila Salimpour:
Experience how Jamila's steps flowed from one to the next, facilitating improvisational dance within the context of the format, to what we now refer to as "Good Ol' Fashioned Bellydance"
Suhaila Salimpour:
"Geometry in motion". Discover the "how and why" of your bellydance moves; in relationship to the Jamila Step Families, and beyond! Work clear muscle isolations and discover endless possibilities within your own bellydance style.
Date & Location:
SATURDAY MARCH 2, 2019
3:00PM - 7:00PM
The Rhythm Room on Hastings
Cost: $73.50 ($70+GST)
Payment plans available
TO REGISTER EMAIL luciterradance@gmail.com
Luciterra Format Classes
____________
What Style of Dance is This? Read more here
Luciterra's weekly classes are offered in a progressive, four-level format. Our range of classes fits every experience level, from seasoned performer to absolute beginner! Each class begins with warm-up that integrates yoga and Pilates exercises which is followed by technique drilling and repertory.
The aim of our classes is to focus on strong technique and dynamic choreography while exploring histories and socio-cultural implications of the dance forms that have contributed to our practice. Discussion and thoughtful consideration of the topics of conscientious cultural fusion and socially-engaged dance performances is strongly encouraged in every level of our school.
Luciterra offers a unique multi-instructor format, which means that all classes are taught by multiple instructors. Our students benefit from exposure to diverse teaching approaches and, periodically, receive additional support from a secondary instructor. In such classes, the "lead" instructor teaches while the "support" instructor is available to provide personalized modifications and feedback. We believe that this approach offers our students an in-depth and dynamic learning experience.
Classes start on time, so please arrive 5-10 minutes before the posted start time. Please arrive 15 minutes early on the first day of each session and when dropping-in, so that we have time to process your payment and say hello! Please bring a water bottle, a yoga mat, and dress in comfortable and supportive clothing. 
Class Descriptions
____________
RUBY

Ruby is Luciterra's introductory-level class. In Ruby you will begin learning the foundation of the Luciterra format including muscular isolations, full body movement and working with space. In this level, you will pay close attention to developing strong, safe dance posture.
Classes include mini-lectures, technique, and a choreography which you will learn throughout the session and are welcome to perform in the end-of-session showcase. Whether you are returning to dance, seeking a new dance practice, or taking part in your very first dance class, Ruby will provide you with a supportive and fun learning environment!
Sundays 6:45-8:15pm
Jan 13 - April 7
No class Feb 17
One Thousand Rivers Studio
To Register email luciterradance@gmail.com
____________
TANGERINE
This second level class is open to dancers who have a solid understanding of the techniques introduced in Ruby. In Tangerine you will deepen your exploration of the role of musicality in dance while learning more challenging foundational moves at a faster pace.
If you have a solid grasp of the concepts and movement introduced in Ruby and you're ready for more challenge, while still working on the foundational techniques, this is the level for you!
Thursdays 7:30 - 9:00pm
Jan 17 - April 11
No class Feb 14
Yoga Buttons Studio
To register email luciterradance@gmail.com
____________
SAFFRON
Saffron is Luciterra's third level class. Saffron instruction and choreography will focus on layering techniques and movements so as to create a more complex and nuanced dance. Luciterra will invite you to enroll into this class once you have developed a solid understanding of the techniques introduced in Tangerine and are able to successfully execute all basic movements taught in Ruby and Tangerine.

Sundays 5:00 - 6:30pm
Jan 13 - April 7
No class Feb 17
One Thousand Rivers
To register email luciterradance@gmail.com
____________
SAGE

Sage is our multilevel drilling class where we focus on technique. This class does not lead to a choreography in the student show. This is a great opportunity to delve deeper into your dance practice and drill the fundamentals while also challenging yourself in a supportive environment. Each drill starts at the basic level and increases in difficulty so you can decide on the level of challenge for yourself.
Fridays 6:00 - 7:30pm

Feb 1 - March 29
The Rhythm Room
To Register email luciterradance@gmail.com
____________
| | Sun | Mon | Tue | Wed | Thu | Fri | Sat |
| --- | --- | --- | --- | --- | --- | --- | --- |
| 5:00 pm | | | | | | | |
| 6:00 pm | | | | | | | |
| 6:45 pm | | | | | | | |
| 7:30 pm | | | | | | | |
Pricing
____________
Pricing details for all 12-week class sessions:
$220.50 ($210+GST) if paid before one week in advance of the first class;

$231.00 ($220+GST) if paid one week in advance of the first day of class or later;

$131.25  ($125+GST) for Sage session from Feb 1 - Mar 29
Drop-ins cost $21 ($20+GST). Note that drop-ins may not always be available. Please e-mail luciterradance@gmail.com before dropping-in, as space is limited.
Luciterra offers a 20% discount to people living with fixed income (social assistance or disability). Please contact luciterradance@gmail.com to receive this discount.
Accepted forms of payment:
Cash

PayPal

E-mail money transfer - if using this option please email luciterradance@gmail.com for instructions 
School Policies:
Class Levels: All students new to Luciterra's school must begin in Ruby. Permission is required to register in all other levels. Permission may also be required for registration in some specialty classes. The Luciterra instructors reserve the right to place students in the level they feel is most suitable.
Refunds: Except in extenuating circumstances, no refunds are given for missed classes. Students are permitted to make up a maximum of 2 missed classes by dropping into other classes on the regular schedule. Such make-up classes must be completed by the end of the current session or the missed classes are forfeit: the right to make up classes does not transfer from one session to the next. Attendance in a make-up class must be arranged in advanced and must be approved by the instructors.