E M E R G E  Fusion Dance Festival Online
Aug 13 - 16, 2020
____________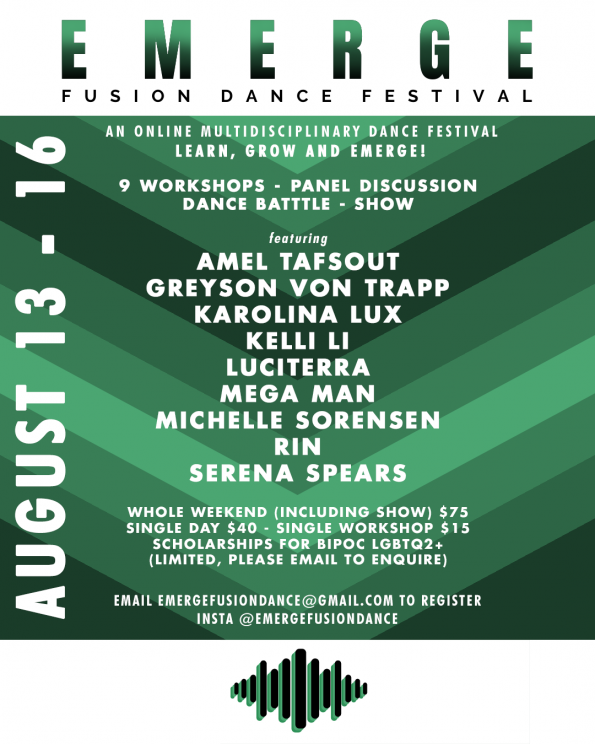 EMERGE - Fusion Dance Festival
Thursday, August 13 - Sunday, August 16, 2020
An online multidisciplinary dance festival.
Learn, Grow and EMERGE!
This jam packed dance festival consists of:
~9 Workshops
~Panel discussion covering important topics in the fusion dance world
~Online dance showcase featuring workshop instructors
~Optional dance battle/challenge
All classes and events will take place online on ZOOM
*SCHEDULE & WORKSHOP DESCRIPTIONS*
*All times are in PDT
***THURSDAY, August 13***
--EMERGE Panel Discussion - 5:30-7:30 (pdt)
***FRIDAY, August 14***
--AMEL TAFSOUT - <Where Africa Meets the Orient: 5:30pm - 6:50pm (pdt)>
North African Maghreb dance is both a public and a personal expression, rich in symbolic dimensions that deal with universal constants in nature, fertility of Mother Earth and the communication between the earthly and the divine. In Amazigh-Berber regions women's singing accompanies any kind of work, such as the harvest. Festivals provide the opportunity to see dances as a Unity. Traditional Amazigh dances are mostly ritual dances. Originally, they were a magical act, in order to obtain the fertility of Mother Earth or to ask for the rain in case of drought. The worshiping of a divinity or a spirit of nature was used in order to gain its protection.
Amel will introduce you to the various dance styles starting with the Amazigh Berber fertility dances, moving to the beauty of Andalusian city dance style, passing by the Desert grooves and ending with a more fusion Style of Raï music.
--MEGAMAN-<Popping with MegaMan (Intermediate): 7:00pm - 8:20pm (pdt)>
***SATURDAY, August 15***
--SERENA SPEARS- <Body Mechanics & Isolations: 10:00am - 11:20am (pdt)>
This workshop will help you build the body knowledge and isolation coordination required to express the immense diversity of Afro-based movement. We'll start with fundamental body mechanics drills to find our individual safe range of motion and clear muscular control in our isolations throughout the body. Then we'll add our isolations together to discover the shapes we use in Afro-rooted dance forms. This class will also give you drills you can repeat on your own to continue training your body for cleaner, stronger movement in any dance form.
--LUCITERRA-<Fusion Musings: 11:30am - 12:50pm (pdt)>
Mindful discussions are equally important in dance training as our movement practices. This workshop is part lecture and part movement where we will explore the ethics of fusion dance and how to blend styles seamlessly and mindfully to create conscientious expression both on and off stage. We will begin with a discussion and finish with a short and challenging fusion choreography unique to Luciterra's movement style. Please bring a notebook, pen, and an open mind.
--RIN -<Fuse It With Music: 1:00pm - 2:20pm (pdt)>
Music and dance are inextricably linked, but it can be easy to overthink how to blend them together. In this workshop, Rin will share her process of cohesively blending the two into one. Learn a short experimental fusion combo to get moving and spark some ideas of your own. Find your balance between method and magic when moving with music! Please bring a pen and paper to take notes, and wear comfortable dance clothing.
--KAROLINA LUX- <Bellydance In Modern Contexts: Dance on stages, cyphers/battles, and film!: 2:30pm - 3:50pm (pdt)>
Belly Dance's roots evolved from more intimate contexts—homes, gatherings; and later, lounges, clubs, etc. Today's generation of belly dancers is faced with a new set of performance contexts to evolve and adapt to. In this workshop, I will give you tools through both lecture and dance exercises, to navigate modern belly dance contexts. 1) We will address theater: Use of space, lines and theatrical expression for larger stages. 2) We will address cyphers/battles: More belly dancers are exploring overlap with street dance culture. We will navigate "cypher etiquette", repping our style in the context of poppers/street dance. 3) We will address film: Where to direct your gaze, how to hire a dance-specific videographer, etc. I have over 15 years of theatrical stage experience, from 100 to 20,000 person venues, in multiple countries. I moved to Los Angeles to specialize in belly dance in theatrical/film industries and street dance culture. I'm on a constant growth journey, but I want to share all the tips I can…from the front lines!
--EVENT: Dance battle/challenge: 5:00pm-7:00pm (pdt)
***SUNDAY, August 16***
--KELLI LI- <Contemporary Fusion: 11:00am - 12:20pm (pdt)>
We will focus on finding and varying the momentum in our movements. Using weight changes and breath work, we will also use our momentum to improve our fluidity and strength. Normally I would love to do some floorwork with you but not at home due to space restrictions!
You are welcome to wear socks (but hopefully they're not too slippery…). Let's explore, release, and be free!
--MICHELLE SORENSEN-<Sinfully Slinky: Fusion Floor Flow: 12:30pm-1:50pm (pdt)>
In this workshop, we will explore the sensual side of floorwork! We'll get gooey and in our feelings with heavy amounts of inspiration from my training in exotic/erotic dance, while incorporating body isolations and accents! Remember to dress appropriately for working on the ground, and bring knee-pads to protect your knees! This will be a physically challenging class, so come prepared to sweat!
--GREYSON VONTRAPP-<Queerness and Masculinity in MENATH Dance: 2:00pm-3:20pm (pdt)>
This lecture is a combination of two of Greyson's lecture offerings: Queer Performer Survival Guide, and Masculinity in American Bellydance. In this hybrid lecture, the intersections of queerness and masculinity in MENATH dance will be explored in relation to representation, equal access, and discrimination. Event producers will find this lecture useful in creating safe events for queer and masculine dancers, with an emphasis on respectful language practices, how to appropriately accommodate these dancers, and effective communication. This lecture will also attend to the self-advocacy needs for queer and masculine dancers in regards to troubleshooting common event issues, communicating with the emcee and producers about correct naming and pronoun usage, and some history to validate the existence of these dancers in MENATH dance history.
--EVENT - EMERGE Online Showcase: 4:30pm-6:00pm (pdt)
*STAY CONNECTED*
Follow us on instagram at @emergefusiondance
Workshop Instructor links:
Amel Tafsout
Instagram: @ameltafsout
Website: www.ameltafsout.com
Greyson von Trapp
Instagram: @greyson.vontrapp
Website: www.greysonvontrapp.dance
Karolina Lux
Instagram: @karolina.lux
Facebook: https://www.facebook.com/karolina.lux.50
Neo Bellydance World Wide Facebook: https://www.facebook.com/groups/1170145136502663/
Website: www.karolinalux.com
Online Classes: www.patreon.com/karolinalux
#neobellydance
Kelli Li
Instagram: @kellilidance
Facebook: https://www.facebook.com/KelliLiDance/
Website: http://www.KelliLiDance.com
Luciterra
Instagram: @luciterradance
Facebook:https://www.facebook.com/luciterradance/
Website: http://luciterradance.com/
Online Classes: https://www.patreon.com/nikkimae
MegaMan
Instagram: @aj_megaman
Facebook: https://m.facebook.com/100000909525748/posts/4112528105454133/?d=n
Michelle Sorensen
Instagram: @michellesbelly
Facebook: www.facebook.com/Michelle.belly.dance
Website: www.michellesbelly.com
Online Classes: www.Patreon.com/thevelveteenserpent
Rin
Instagram: @rinajna
Website: rinajna.com
Serena Spears
Instagram: @serenaspearsdance
Website: www.serenaspearsdance.com
Panel Discussion Details
Thursday, August 13 5:30pm-7:30pm pdt
A free panel discussion featuring special guests
**ALL WELCOME**
Belly dance is a time-honored art, that we practice in contemporary society! The times keep changing, and inevitably so does the definition of this dance form. As we look toward the next generation of fusion belly dance, what perspectives do we want to change, and what will we want to hold on to? Join special guest teachers from diverse training backgrounds and locations, as they discuss the future of fusion belly dance in our modern era. Panel speakers will share their views on fusion belly dance from a socio-political viewpoint, connections between fusion belly dance and broader audiences/markets, honoring roots of the dance while creating innovative fusion, and more. There will be periods of time for comments, questions, and discussion from the audience, and a community dialogue on the topics will be encouraged! We will dive into thoughtful conversation about what the next generation of fusion belly dance looks like…with integrity and intention!
Pricing
____________
Full Festival (All workshops and events) - $75 USD!!
Single class drop in - $15
Cost By Day:
THURSDAY Panel Discussion - By donation ~ Proceeds donated to charity
FRIDAY Workshops - $20 USD
SATURDAY Workshops - $40 USD
Dance Battle - Free Entry
SUNDAY Workshops - $40 USD
EMERGE Online Showcase - $10 USD
Package Deal:
Four Workshops - $40 USD
Three Workshops plus Sunday Show - $40 USD
*All prices are inclusive of taxes
*All prices in USD
*If cost is a barrier please email us to discuss options. There are a handful of spots available for those identifying as low income, BIPOC, LGBTQ+
*REGISTRATION*
To register, email emergefusiondance@gmail.com
Payment is accepted via PayPal or Venmo
PayPal: Serena.spears@gmail.com
Venmo: @Serena-Spears
Come dance with us!